Entertainment
Archie Brothers Cirque Electriq
You can find Archie Brothers on the Sunshine Coast, for further updates visit their website or follow them on Facebook.
Archie Brothers Cirque Electriq is your one-stop entertainment destination.
With bowling lanes, arcade and ticket games, virtual reality rides and dodgems, they've got hours of entertainment available.
Throw in a full service cocktail bar, gourmet kitchen and function spaces into the mix, and the fun's covered for everyone.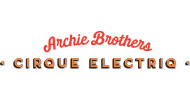 Centre Trading Hours
9:00AM - 5:30PM
TUESDAY
9:00AM - 5:30PM
WEDNESDAY
9:00AM - 5:30PM
THURSDAY
9:00AM - 9:00PM
FRIDAY
9:00AM - 5:30PM
SATURDAY
9:00AM - 5:00PM
SUNDAY
10:00AM - 4:00PM
*Except Supermarkets
Archie Brothers Cirque Electriq | Toombul