While our Toombul store is temporarily closed, you can find us at South Bank, for further updates visit our website or follow us on Facebook.
Max Brenner is well-known for being the best dessert destination in Brisbane. At their Chocolate Bar, you can indulge in decadent pastries, creamy fondues and thick marshmallows. Chocolate is celebrated everywhere; in their music, design and on their menu.
Check out the menu here.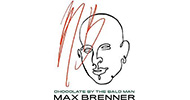 Centre Trading Hours
MONDAY
9:00AM - 5:30PM
TUESDAY
9:00AM - 5:30PM
WEDNESDAY
9:00AM - 5:30PM
THURSDAY
9:00AM - 9:00PM
FRIDAY
9:00AM - 5:30PM
SATURDAY
9:00AM - 5:00PM
SUNDAY
10:00AM - 4:00PM
*Except Supermarkets