Sanity is your entertainment specialist, with a massive range of movies, music, blu-ray, TV on DVD, merchandise, books and more!
Please be advised that due to the Brisbane lockdown Sanity Music will be closed on the following days:
Tuesday 30 March - CLOSED
Wednesday 31 March - CLOSED
Thursday 1 April - CLOSED
Good Friday 2 April - CLOSED
Sanity Music are currently scheduled to reopen for trade on Saturday 3 April.
We apologise for any inconvenience.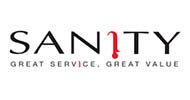 Sainty Trading Hours
Monday
9:00am - 5:30pm
Tuesday
9:00am - 5:30pm
Wednesday
9:00am - 5:30pm
Thursday
9:00am - 9:00pm
Friday
9:00am - 5:30pm
Saturday
9:00am - 5:00pm
Sunday
10:00am - 4:00pm