Hair & Beauty
Toombul Barber
Toombul Barber is a family owned local barber specialising in mens & children's hair cuts. Their stylists are highly skilled and ensure an enhanced customer experience with each visit.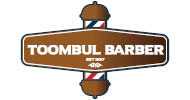 Toombul Barber Trading Hours
Monday
8:00AM - 5:30PM
Tuesday
8:00AM - 5:30PM
Wednesday
8:00AM - 5:30PM
Thursday
8:00AM - 8:30PM
Friday
8:00AM - 5:30PM
Saturday
8:00AM - 4:30PM
Sunday
CLOSED
Toombul Barber are closed Sundays and Public Holidays.