Food & Drink
Indulgent Chocolate Cob Loaf Recipe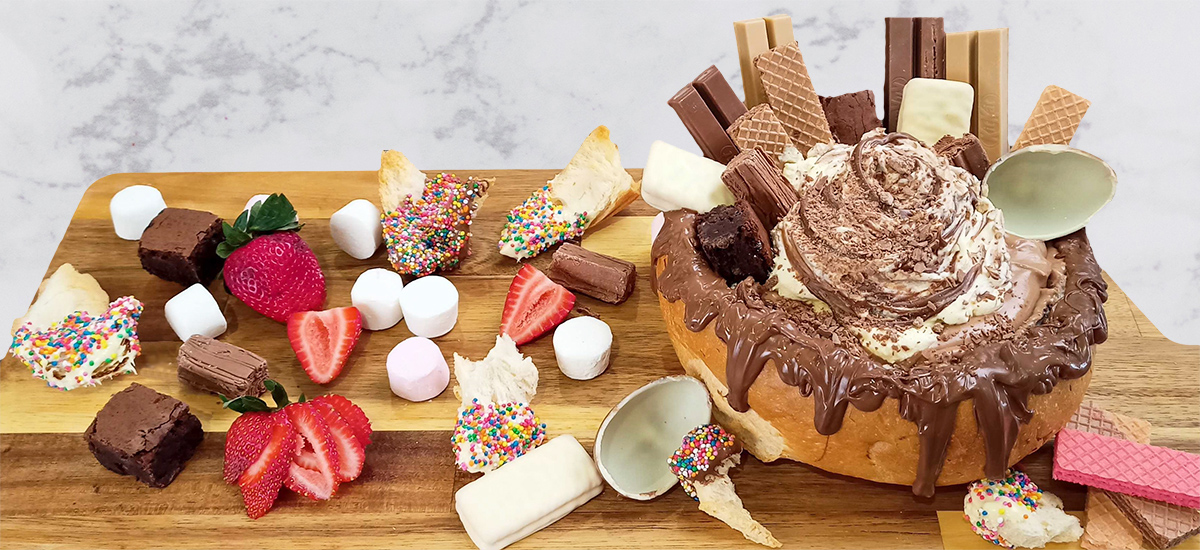 Everyone loves a good cob. It's gooey, creamy and all kinds of delicious, but we're taking it to the next level.
We're swapping the cream cheese for mouth-watering chocolate, topped with all your favourite sweets and dipping treats. If you have a sweet tooth, then this cob is perfect for entertaining friends or those summer date nights.

Ingredients
Ingredients available from Baker's Delight, Coles & Aldi
- 1x large cob loaf
- 2x 200g block of milk chocolate
- 3x 30g Flake chocolate bars
- 300ml thickened cream, whipped
- ½ cup milk
- 100g packet mini white marshmallows
- Your favourite dipping treats


Make It
1. Cut the top quarter off the cob and pull away the soft bread from the inside.
2. Cook the cob in the oven on 180C for 7 minutes.
3. Place one block of chocolate (chopped), the marshmallows and milk in a large saucepan over a medium to low heat. Stir until melted and smooth. Transfer to a large bowl and stand for 30 minutes until slightly cool.
4. Beat the cream in a large bowl with an electric mixer until soft peaks form.
5. Using a spatula, fold the chocolate mixture gradually into half of the cream until all combined. Reserve half of the cream.
6. Melt the second block of chocolate in a heatproof bowl over a saucepan of simmering water, stirring until smooth. Remove and set aside.
7. Pour the chocolate cream mixture into the cob. Add the reserved whipped cream on top.
8. Dollop the melted chocolate in a few places and use a skewer to swirl it around.
9. Sprinkle Flake chocolate over the top and decorate it with your favourite fruit, marshmallows, biscuits, lollies and chocolates.
10. Serve and watch as your guests tear this gooey creation apart!

INSPIRATION
Check this out