Supermarket
Six Revolutionary Ways to Eat Hot Cross Buns
Recipes to elevate the Easter classic!

Whether you love them traditional or stuffed with chocolate, hot cross buns are a highlight of the autumn months. The fact that the cinnamon-laced buns are so intrinsically tied to Easter are a bonus when it comes to creating a special dessert for the event. Transform a simple dish into an Easter-themed centrepiece: just add hot cross buns.
Here are six ways to take your hot cross bun obsession to the next level.
Hot Cross Bun Cheesecake
This dessert is bound to be the hero of your Easter lunch, and probably lead to a campaign for hot cross buns all year round. This masterpiece features a base of our star ingredient and butternut snap biscuits, is filled with spiced cream cheese, and is topped with buns, raspberries, whipped cream and, we suggest, chocolate eggs.
Try it with choc chip hot cross buns for something extra indulgent.
Hot Cross Bun and Butter Pudding
Unsurprisingly, one of the most popular uses for the humble hot cross bun is a take on a beloved classic — bread and butter pudding. Replace the bread in your favourite recipe with hot cross buns, or try one of these variations:
🐰
A silky skillet pudding with home-made custard
,
🐰 This easy and rustic option,
🐰 A heavenly combination of chocolate and maple-roasted pears,
🐰 A simple recipe with white chocolate and blackberries,
🐰 Or this one with dark chocolate and cherries.
French Cross Toast
Another easy swap is dipping your hot cross buns in a gooey egg mixture for a seasonal French toast breakfast. If you need some guidance, go for a classic recipe topped with banana and honey. Cut into fingers, this one is great for little hands and will be loved by kids. Or if your tastes are a little more adult, you might prefer to give this spiced French toast laced with Cointreau a go.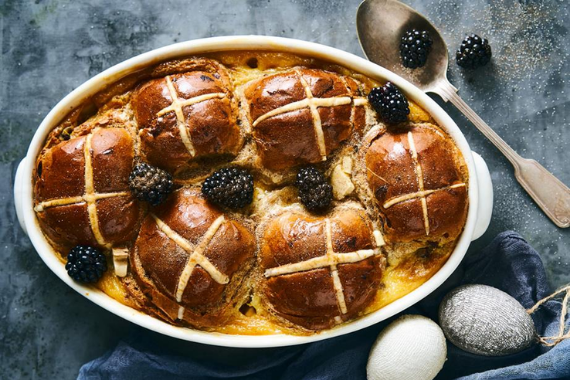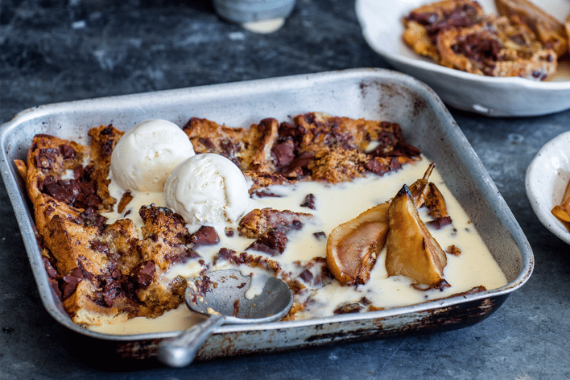 Easter Trifle
Challenge traditional trifle lovers not to enjoy this sweet, layered treat. Make it just for the grown-ups with a boozy butterscotch custard or leave the whiskey out for the whole family to enjoy. Caramelised pears, roasted hazelnuts and, of course, hot cross buns, make for an absolute showstopper when it comes time for dessert.
Try it here, consider this earl grey and orange version for something zesty, or embrace the sweet with a chocolate and salted caramel extravaganza.
Honeycomb Ice Cream Sundae
If you're short on time (which most of us are), a sundae is a fun and easy way to take your leftover hot cross buns to the next level. Chop or tear up a hot cross bun, crush some honeycomb and serve with high quality vanilla ice cream. Drizzle with chocolate sauce or warm caramel.
Hot Cross Bombe Alaska
For those up for a little bit of a challenge, a baked, or bombe, Alaska involves covering ice cream with fluffy meringue and popping it in the oven. We found this option, which layers chocolate, honey macadamia and peanut butter ice cream with mocha and brioche hot cross buns, or these tasty individual desserts with only four ingredients. Take your pick.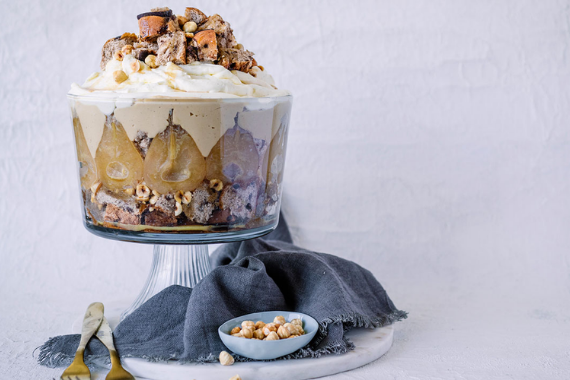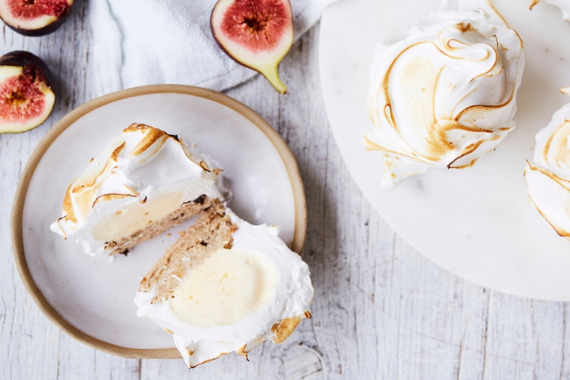 Can't wait to try these out? [SUPERMARKET] and [BAKERY] have you covered for hot cross buns and all the extras.
INSPIRATION
Check this out