Seven Ways to Make Your Easter Egg Hunt Egg-ceptionally Egg-citing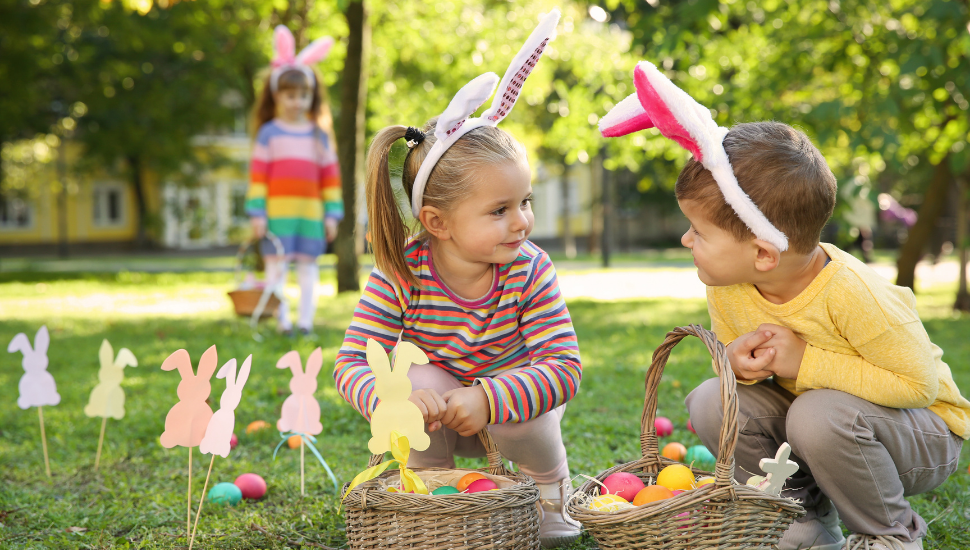 Sweeten the deal when the Easter Bunny comes to visit!
Easter Sunday is right up there with Christmas as the most exciting day on the kiddy calendar. What's not to love about the thrill of hunting for delicious chocolate and brightly coloured eggs? More than a few adults love it too.
Hunting for eggs at Easter dates back to 16th-century Germany, and the tradition, said to represent new life, has spread around the world. Even Queen Victoria was an Easter egg hunt fan. On 7 April 1833, at 14, she wrote in her diary: Mama did some pretty painted and ornamented eggs and we looked for them.
While you can't go wrong with chocolate eggs hidden around the garden, there's plenty of egg-cellent ways to sweeten the deal when the Easter Bunny comes to visit.
The Classic Hunt
If you don't have a lot of time, but do have a lot of kids, a classic hunt is a great option. When no one's looking, hide eggs inside, outside or both. Keep it simple for the under-fives so they can have the thrill of success, and challenge older hunters with inventive hiding places – the sneakier the better. Set your brood free after a dramatic countdown and enjoy the merry mayhem. (Make a note of where you put them all, just in case.)
The Treasure Hunt
The treasure hunt starts with a written clue to find the first egg. Then there's another clue with that egg, and the next, and the next — until the lucky hunter finds the grand prize! It's helpful to give hunters a basket for stashing their sweet surprises, available for purchase from (INSERT RETAILERS & LINK TO THEIR STORE PAGES). Consider using small eggs with all the clues, then a larger egg at the end as a reward for a hunt well done.
This takes a little planning and writing, but clever clues can be as much fun as finding the next egg! Older kids might get a clue like: "Where you find the things to clean, somewhere that you've never been." Younger children might enjoy: "Did you hear the Easter Bunny? There's an egg where you sleep, isn't that funny!" The more personalised you can make the clues, the more fun everyone will have. This is a perfect way for small groups of children to solve problems together. Just make sure there's a surprise for everyone at the end!
The Relay Race Hunt
If there are lots of kids hunting eggs at your Easter celebration, a relay race is a fun, exciting idea. Split the children into teams, shout go, and tell one child from each team to rush in search of an egg. When their egg hits the basket, the next team member is free to explore. Keep an eye on little ones who might be tempted to eat their eggs on the way back, and have a few extra eggs on hand to make sure each team ends up with the same bounty.
The Night Hunt
Ramp up the excitement and anticipation for older children by staging your Easter egg hunt at night. It's the perfect way to keep everyone amused — especially if your child has friends over. Supply everyone with a cheap torch (major retailers have them for as low as $10) or ask people to bring their own. To add to the ambience and make eggs easier to find, consider wrapping them in a glowstick. If you want to be eggs-tra creative, paint the packaging or wrapping in glow-in-the-dark paint. As part of your planning, it's important to make sure none of your egg hunters are afraid of the dark!
The Everyone Can Play Hunt
Not everyone is able to eat chocolate and sugar-heavy sweets, but everyone should be able to enjoy an Easter egg hunt. Colourful eggs that you can fill with whatever you want are widely available at discount variety stores and supermarkets this time of year (REFER TO RETAILERS HERE IF YOU KNOW THEY SELL THESE, IF NOT LEAVE THE SENTENCE AS IS). Fill them with goodies like small trinkets and toys, or redeemable tokens for days out and large prizes. The Easter Bunny might even leave a gold coin donation, if he or she is feeling generous!
The Hunt-by-Colours Hunt
This hunt is a great way to make sure everyone has a fair go no matter their age or ability. Assign each child a colour that only they are allowed to retrieve. This encourages cooperation among groups of children and shares the excitement around. It's also an opportunity to get crafty, teach kids about colours and dye hardboiled eggs in fun shades. You can even glue on matching buttons and shells in beautiful patterns. Just make there's an equal stash of eggs for all the colours you've assigned. Visit (INSERT STORES/SUPERMARKETS) to pick up all your supplies!


The Grown-Up Hunt
There's no reason children should have all the fun on Easter. It's true everyone loves chocolate, but a grown-up prize might be something more adult — like a bottle of good champagne, tickets to a favourite concert, a night out at a restaurant, jewellery, or a nice selection of cheeses. It's up to you and your interests!
Eggs-periment and eggs-press yourself with eggs and other goodies from [SUPERMAKETS/STORES]. It might be more fun than you egg-spect!
INSPIRATION
Check this out